Doctor Fun, October 1 through October 8, 1993
All cartoons are in 24-bit JPEG format.
Scenes cut from "Jurassic Park:" Velociraptors Devour a Barney
---
10/07/93
Mantovani and His 101 Silly Strings
---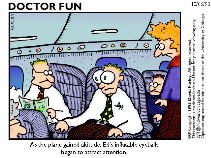 10/06/93
As the plane gained altitude, Ed's inflatable eyeballs began to attract attention.
---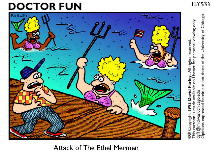 10/05/93
Attack of the Ethel Mermen
---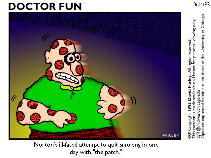 10/04/93
Norton's ill-fated attempt to quit smoking in one day with "the patch."
---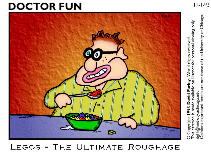 10/01/93
Legos - The Ultimate Roughage
---
Go to the previous week.
Go back to the archive page.
---
David Farley (d-farley@metalab.unc.edu)