Doctor Fun Cartoons for February 24 through 28, 1997
Each cartoon is a 640x480 pixel, 24-bit color JPEG file, approximately 100K in size. Click on the thumbnail or text to download the cartoons.

Home, Archive, Previous Week, Next Week,
---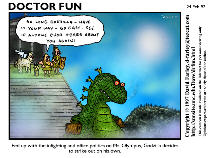 97/02/24
Fed up with the infighting and office politics on Mt. Olympus, Godzilla decides to strike out on his own.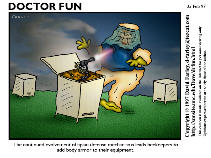 97/02/25
The continued evolvement of apian defense mechanisms leads beekeepers to add body armor to their equipment.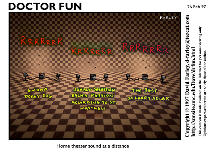 97/02/26
Home theater sound at a distance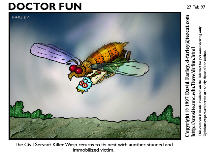 97/02/27
The Civil Servant Killer Wasp returns to its nest with another stunned and immobilized victim.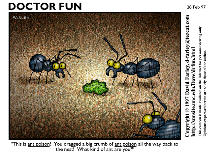 97/02/28
"This is ant poison! You dragged a big crumb of ant poison all the way back to the nest! What kind of ant are you?"

---
Home,
Archive,
Previous Week,
Next Week,
Information About Doctor Fun, The MetaLab Home Page
---
These pages maintained, and contents copyrighted, by David Farley, d-farley@metalab.unc.edu