Doctor Fun Cartoons for March 10 through 14, 1997
Each cartoon is a 640x480 pixel, 24-bit color JPEG file, approximately 100K in size. Click on the thumbnail or text to download the cartoons.

Home, Archive, Previous Week, Next Week,
---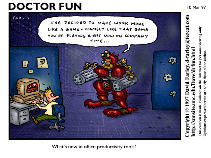 97/03/10
What's new in office productivity tools?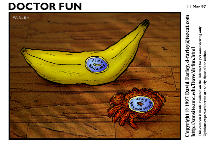 97/03/11
Acme Banana Spider


97/03/12
Rodent costume parties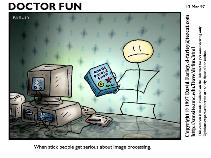 97/03/13
When stick people get serious about image processing.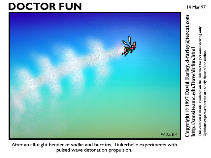 97/03/14
After an all-night bender of vodka and burritos, Tinkerbelle experiments with pulsed wave detonation propulsion.

---
Home,
Archive,
Previous Week,
Next Week,
Information About Doctor Fun, The MetaLab Home Page
---
These pages maintained, and contents copyrighted, by David Farley, d-farley@metalab.unc.edu