Doctor Fun Cartoons for April 21 through 25 1997
Each cartoon is a 640x480 pixel, 24-bit color JPEG file, approximately 100K in size. Click on the thumbnail or text to download the cartoons.

Home, Archive, Previous Week, Next Week,
---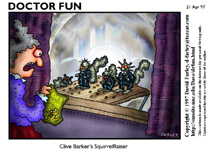 97/04/21
Clive Barker's SquirrelRaiser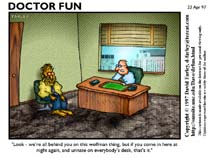 97/04/22
"Look - we're all behind you on this wolfman thing, but if you come in here at night again, and urinate on everybody's desk, that's it."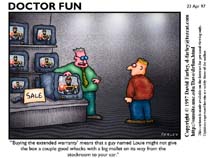 97/04/23
"'Buying the extended warranty' means that a guy named Louie might not give the box a couple good whacks with a big mallet on its way from the stockroom to your car."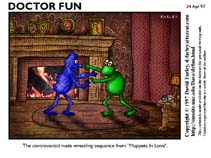 97/04/24
The controversial nude wrestling sequence from "Muppets In Love".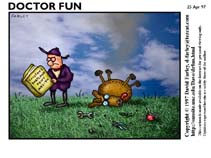 97/04/25
Chilton's Shetland Pony

---
Home,
Archive,
Previous Week,
Next Week,
Information About Doctor Fun, The MetaLab Home Page
---
These pages maintained, and contents copyrighted, by David Farley, d-farley@metalab.unc.edu