Doctor Fun Cartoons for May 5 through 9, 1997
Each cartoon is a 640x480 pixel, 24-bit color JPEG file, approximately 100K in size. Click on the thumbnail or text to download the cartoons.

Home, Archive, Previous Week, Next Week,
---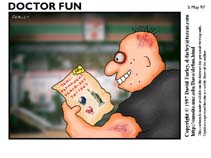 97/05/05
Semi-permanent Scald-off Tattoos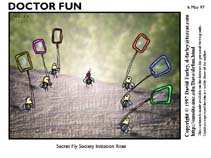 97/05/06
Secret Fly Society Initiation Rites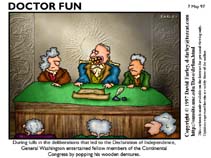 97/05/07
During lulls in the deliberations that led to the Declaration of Independence, General Washington entertained fellow members of the Continental Congress by popping his wooden dentures.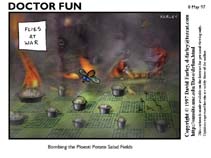 97/05/08
Flies at War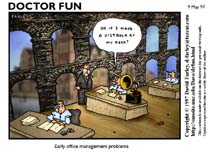 97/05/09
Early office management problems

---
Home,
Archive,
Previous Week,
Next Week,
Information About Doctor Fun, The MetaLab Home Page
---
These pages maintained, and contents copyrighted, by David Farley, d-farley@metalab.unc.edu