Doctor Fun Cartoons for June 16 through 20, 1997
Each cartoon is a 640x480 pixel, 24-bit color JPEG file, approximately 100K in size. Click on the thumbnail or text to download the cartoons.

Home, Archive, Previous Week, Next Week,
---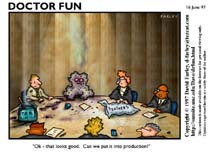 97/06/16
"Ok - that looks good. Can we put it into production?"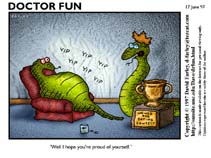 97/06/17
"Well I hope you're proud of yourself!"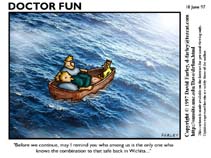 97/06/18
"Before we continue, may I remind you who among us is the only one who knows the combination to that safe back in Wichita..."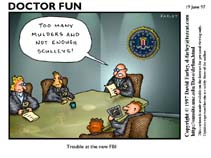 97/06/19
Trouble at the new FBI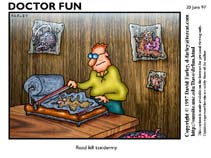 97/06/20
Road kill taxidermy

---
Home,
Archive,
Previous Week,
Next Week,
Information About Doctor Fun, The MetaLab Home Page
---
These pages maintained, and contents copyrighted, by David Farley, d-farley@metalab.unc.edu