Doctor Fun Cartoons for July 21 through 25, 1997
Each cartoon is a 640x480 pixel, 24-bit color JPEG file, approximately 100K in size. Click on the thumbnail or text to download the cartoons.

Home, Archive, Previous Week, Next Week,
---

97/07/21
Clyde reviews his notes.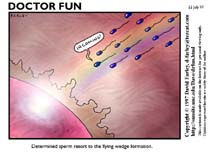 97/07/22
Determined sperm resort to the flying wedge formation.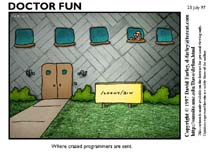 97/07/23
Where crazed programmers are sent.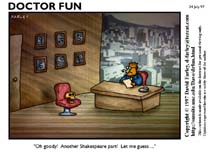 97/07/24
"Oh goody! Another Shakespeare part! Let me guess ..."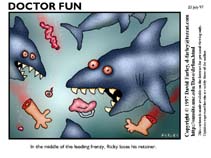 97/07/25
In the middle of the feeding frenzy, Ricky loses his retainer.

---
Home,
Archive,
Previous Week,
Next Week,
Information About Doctor Fun, The MetaLab Home Page
---
These pages maintained, and contents copyrighted, by David Farley, d-farley@metalab.unc.edu