Doctor Fun Cartoons for August 4 through 8, 1997
Each cartoon is a 640x480 pixel, 24-bit color JPEG file, approximately 100K in size. Click on the thumbnail or text to download the cartoons.

Home, Archive, Previous Week, Next Week,
---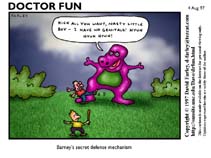 97/08/04
Barney's secret defense mechanism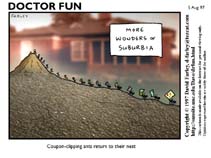 97/08/05
Coupon-clipping ants return to their nest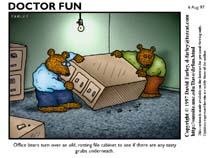 97/08/06
Office bears turn over an old, rotting file cabinet to see if there are any tasty grubs underneath.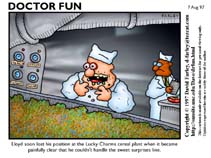 97/08/07
Lloyd soon lost his position at the Lucky Charms cereal plant when it became painfully clear that he couldn't handle the sweet surprises line.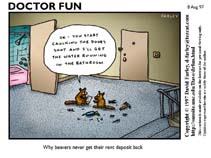 97/08/08
Why beavers never get their rent deposit back

---
Home,
Archive,
Previous Week,
Next Week,
Information About Doctor Fun, The MetaLab Home Page
---
These pages maintained, and contents copyrighted, by David Farley, d-farley@metalab.unc.edu