Doctor Fun Cartoons for August 18 through 22, 1997
Each cartoon is a 640x480 pixel, 24-bit color JPEG file, approximately 100K in size. Click on the thumbnail or text to download the cartoons.

Home, Archive, Previous Week, Next Week,
---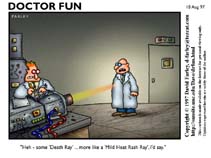 97/08/18
"Heh - some 'Death Ray' ... more like a 'Mild Heat Rash Ray', I'd say."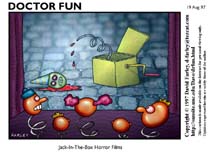 97/08/19
Jack-In-The-Box Horror Films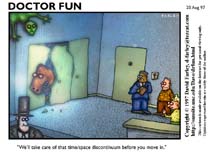 97/08/20
"We'll take care of that time/space discontinuum before you move in."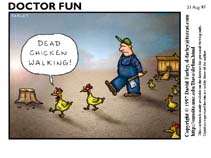 97/08/21
"Dead chicken walking!"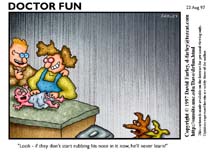 97/08/22
"Look - if they don't start rubbing his nose in it now, he'll never learn!"

---
Home,
Archive,
Previous Week,
Next Week,
Information About Doctor Fun, The MetaLab Home Page
---
These pages maintained, and contents copyrighted, by David Farley, d-farley@metalab.unc.edu