Doctor Fun Cartoons for October 6 through 10, 1997
Each cartoon is a 640x480 pixel, 24-bit color JPEG file, approximately 100K in size. Click on the thumbnail or text to download the cartoons.

Home, Archive, Previous Week, Next Week,
---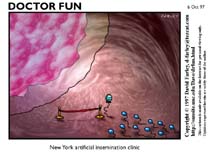 97/10/06
New York artificial insemination clinic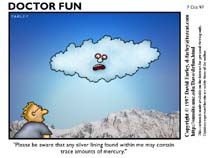 97/10/07
"Please be aware that any silver lining found within me may contain trace amounts of mercury."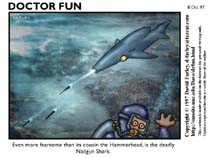 97/10/08
Even more fearsome than its cousin the Hammerhead, is the deadly Nailgun Shark.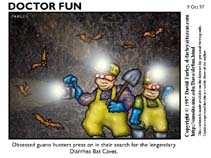 97/10/09
Obsessed guano hunters press on in their search for the legendary Diarrhea Bat Caves.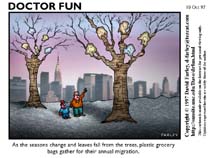 97/10/10
As the seasons change and leaves fall from the trees, plastic grocery bags gather for their annual migration.

---
Home,
Archive,
Previous Week,
Next Week,
Information About Doctor Fun, The MetaLab Home Page
---
These pages maintained, and contents copyrighted, by David Farley, d-farley@metalab.unc.edu