Doctor Fun Cartoons for April 27 through May 1, 1998
Each cartoon is a 640x480 pixel, 24-bit color JPEG file, approximately 100K in size. Click on the thumbnail or text to download the cartoons.

Home, Archive, Previous Week, Next Week,
---

98/04/27
When frogs apply for research grants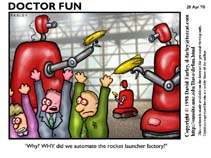 98/04/28
"Why? WHY did we automate the rocket launcher factory?"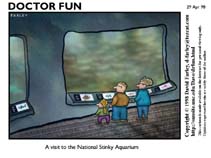 98/04/29
A visit to the National Stinky Aquarium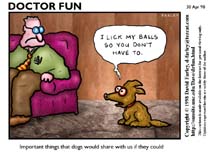 98/04/30
Important things that dogs would share with us if they could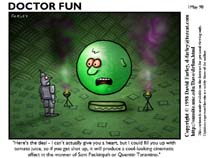 98/05/01
"Here's the deal - I can't actually give you a heart, but I could fill you up with tomato juice, so if you get shot up, it will produce a cool-looking cinematic effect in the manner of Sam Pekinpah or Quentin Tarantino."
Home, Archive, Previous Week, Next Week,
Information About Doctor Fun, The MetaLab Home Page
---
These pages maintained, and contents copyrighted, by David Farley, d-farley@metalab.unc.edu