Doctor Fun Cartoons for May 25 through 29, 1998
Each cartoon is a 640x480 pixel, 24-bit color JPEG file, approximately 100K in size. Click on the thumbnail or text to download the cartoons.

Home, Archive, Previous Week, Next Week,
---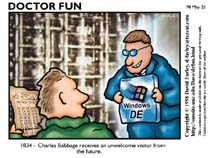 98/05/25
1834 - Charles Babbage receives an unwelcome visitor from the future.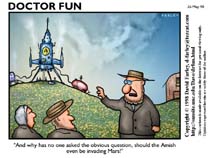 98/05/26
"And why has no one asked the obvious question, should the Amish even be invading Mars?"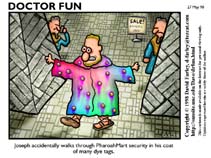 98/05/27
Joseph accidentally walks through PharoahMart security in his coat of many dye tags.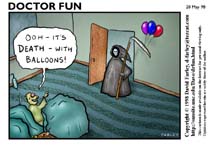 98/05/28
"Ooh - It's Death - with balloons!"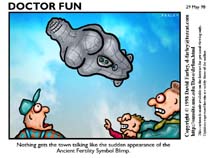 98/05/29
Nothing gets the town talking like the sudden appearance of the Ancient Fertility Symbol Blimp.


Home, Archive, Previous Week, Next Week,

Information About Doctor Fun, The MetaLab Home Page
---
These pages maintained, and contents copyrighted, by David Farley, d-farley@metalab.unc.edu