Doctor Fun Cartoons for June 15 through 19, 1998
Each cartoon is a 640x480 pixel, 24-bit color JPEG file, approximately 100K in size. Click on the thumbnail or text to download the cartoons.

Home, Archive, Previous Week, Next Week,
---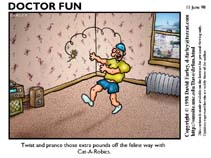 98/06/15
Twist and prance those extra pounds off the feline way with Cat-A-Robics.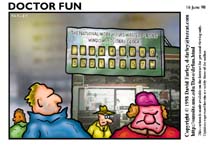 98/06/16
The National Work Hours Wasted Playing Windows Solitaire Clock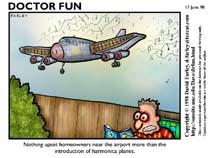 98/06/17
Nothing upset homeowners near the airport more than the introduction of harmonica planes.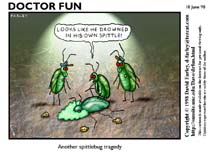 98/06/18
Another spittlebug tragedy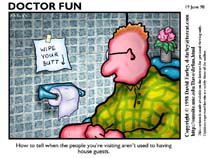 98/06/19
How to tell when the people you're visiting aren't used to having house guests.


Home, Archive, Previous Week, Next Week,

Information About Doctor Fun, The MetaLab Home Page
---
These pages maintained, and contents copyrighted, by David Farley, d-farley@metalab.unc.edu