Navigate this Site:


Home



Racing



Nissan Destruction



Aviation



MP3 Music




Track Listing




2002 Tracks




2001 Tracks




2000 Tracks




Pro DJ Career




Nero's Cancer



LiveJournal Images



Treo 650 Software



Dr. Fun Archive



Freethinkers
My Life as a Pro DJ
I've always loved music. When I was young, I took many years of classical piano lessons. Later, in my late teens, I started a DJ company with a friend. We focused on playing new music, the kind of thing you'd never hear on the radio, except on stations like CFNY. CFNY is another topic for another day...I could write a book on the history of CFNY and the sad reflection of its former self that it has become today.
In any case, my DJ career flourished. I sold out of the mobile business I had started with my friend, and decided to work clubs exclusively. I joined a DJ talent agency in Toronto, and started working my way up. At the time, I was used to playing very eclectic types of music, lots of dance music, things like Depeche Mode and New Order (this is before anyone had really heard of these groups).
However, when I started with the agency, I was placed in some very non-dance music type places. I was working in a chain called O'Tooles for a while, which was a roadhouse-type place, among other similar restaurants and bars. I was playing things like Lynyrd Skynyrd, David Wilcox, and a ton of other good ol' boy rock and roll type music that I had never before listened to, and knew very little about. I learned very quickly, and widened my musical horizons greatly.
After a year or so of playing roadhouse-style clubs, I started moving up in the club DJ world. I got a few clubs where I could play top-40-ish dance music, and finally got a regular weekend spot at a bar called Occasions that was regularly packed with friendly people who liked to dance. I honed my DJ skills here for almost a year.
My first real dance club was a place called Hollingers. Six nights a week this place was as dead as a doornail, with only a few older gentlemen quietly sipping their beers. However, every Thursday night was party night! The place filled to far beyond capacity with young (primarily underage) kids who wanted to do nothing but drink beer and dance the night away. I would walk into Hollingers at 7:30, start up at 8:00, and would do nothing but beatmix nonstop the latest dance, rap, funk, house, whatever, straight through until 2:00 am. It was while I was at Hollingers that I really perfected my DJ turntable skills. At the same time, I explored the alternative side of music, while working Wednesday nights at the downtown Lizard Lounge - a dark, gothic club in the heart of hooker district.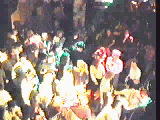 My next move was to the big time. While keeping my Thursday night at Hollingers, I took on Friday and Saturday nights at P.M. Toronto, one of the newer hot spots. This massive club was heaven on earth. Over a thousand people, a big dance floor, massive sound system, 400 square foot video screen, and great lighting system. It actually took two people to run the place, one to DJ and one to run the lights. We went from 8 pm to 3 am, and all was bliss.
At the same time, I started working for the radio station I had grown up in awe of: CFNY. I got a once-a-week overnight board-op job, paying barely above minimum wage. The good news was that I got to program my own show (well, I did have to submit the playlist in advance, but it was almost always approved without changes). The bad news was that I was not allowed to talk on air, except for live tags (a live tag is the bit after the commercial where the announcer says something like, "There are 15 area Ford dealers, like the one at 1515 Steeles Avenue").
You can listen to a couple of the commercials that were played on CFNY when I worked there, advertising my P.M. Toronto club:
P.M. Toronto Ad 1 (621K)
P.M. Toronto Ad 2 (448K)
Life couldn't be better. Then it all came crashing down. I was working clubs 5 nights a week, including my CFNY spot which meant one day a week I was up for 30 hours straight. I started to notice that after my Saturday night gig at P.M. Toronto, that my ears would ring until the following Tuesday. I also started to notice that I was having trouble hearing people talking in noisy environments. I got my hearing checked - and was told that I had permanent hearing damage.
I quit my DJ career right then and there.
I still have the hearing damage (it is permanent, after all). I still have difficulty hearing conversations at parties and in loud places. But I don't regret my six-year DJ career. I still have well over two thousand records and CD's, including some very rare 12 inch singles. I still have my two SL-1200 turntables. And once every few months, when I get into the mood, I pull out some records, dust off the turntables, and just make sure I still remember how to mix...
This page copyright © 2000