Doctor Fun, November 22 through November 26, 1993
All cartoons are in 24-bit JPEG format.
The Miracle Tuba
(A tip o' the Doctor Fun hat to Joseph Wu for pointing out the practical possibilities of The Miracle Tuba.)
---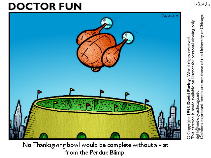 11/25/93
No Thanksgiving bowl would be complete without a visit from the Perdue Blimp.
---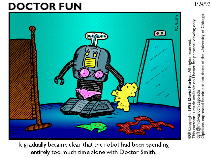 11/24/93
It gradually became clear that the robot had been spending entirely too much time alone with Doctor Smith.
---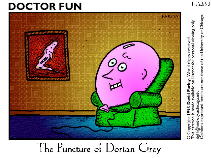 11/23/93
The Puncture of Dorian Grey
---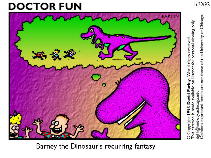 11/22/93
Barney the Dinosaur's recurring fantasy
---
Go to the previous week.
Go back to the archive page.
---
David Farley (d-farley@metalab.unc.edu)