Doctor Fun, February 13 through 17, 1995
All cartoons are in 24-bit JPEG format.
Phil churlishly breaks up the gnats' ultimate frisbee match.
---
02/16/95
A visit from the Loch Ness Monster Truck
---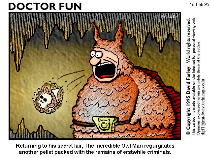 02/15/95
Returning to his secret lair. The Incredible Owl Man regurgitates another pellet packed with the remains of erstwhile criminals.
---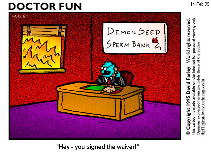 02/14/95
"Hey - you signed the waiver!"
---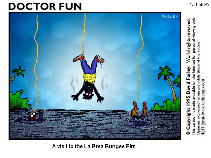 02/13/95
A visit to the La Brea Bungee Pits
---
Go back to the archive page
---
David Farley (d-farley@metalab.unc.edu)