Doctor Fun Cartoons for September 8 through 12, 1997
Each cartoon is a 640x480 pixel, 24-bit color JPEG file, approximately 100K in size. Click on the thumbnail or text to download the cartoons.

Home, Archive, Previous Week, Next Week,
---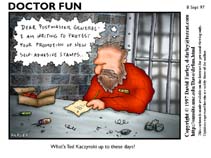 97/09/08
What's Ted Kaczynski up to these days?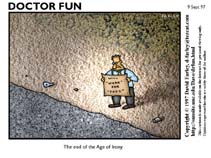 97/09/09
The end of the Age of Irony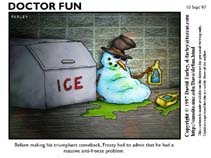 97/09/10
Before making his triumphant comeback, Frosty had to admit that he had a massive anti-freeze problem.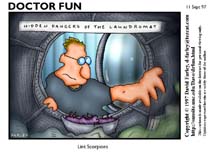 97/09/11
Hidden dangers of the laundromat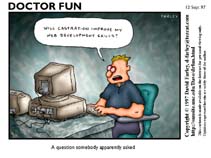 97/09/12
A question somebody apparently asked

---
Home,
Archive,
Previous Week,
Next Week,
Information About Doctor Fun, The MetaLab Home Page
---
These pages maintained, and contents copyrighted, by David Farley, d-farley@metalab.unc.edu