Doctor Fun Cartoons for September 15 through 19, 1997
Each cartoon is a 640x480 pixel, 24-bit color JPEG file, approximately 100K in size. Click on the thumbnail or text to download the cartoons.

Home, Archive, Previous Week, Next Week,
---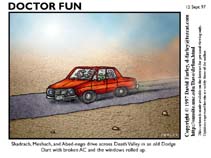 97/09/15
Shadrach, Meshach, and Abed-nego drive across Death Valley in an old Dodge Dart with broken AC and the windows rolled up.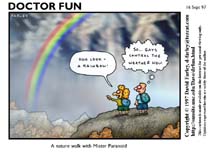 97/09/16
A nature walk with Mister Paranoid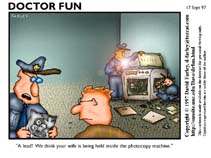 97/09/17
"A lead! We think your wife is being held inside the photocopy machine."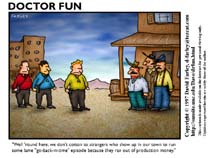 97/09/18
"Well 'round here we don't cotton to strangers who show up in our town to run some lame "go-back-in-time" episode because they ran out of production money."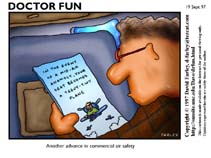 97/09/19
Another advance in commercial air safety

---
Home,
Archive,
Previous Week,
Next Week,
Information About Doctor Fun, The MetaLab Home Page
---
These pages maintained, and contents copyrighted, by David Farley, d-farley@metalab.unc.edu