Doctor Fun Cartoons for October 20 through 24, 1997
Each cartoon is a 640x480 pixel, 24-bit color JPEG file, approximately 100K in size. Click on the thumbnail or text to download the cartoons.

Home, Archive, Previous Week, Next Week,
---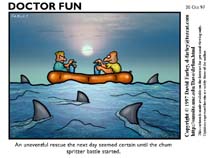 97/10/20
An uneventful rescue the next day seemed certain until the chum spritzer battle started.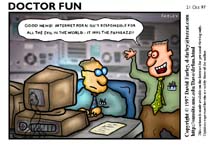 97/10/21
"Good news! Internet porn isn't responsible for all the evil in the world - it was the paparazzi!"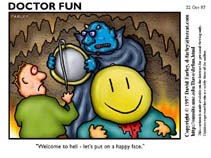 97/10/22
"Welcome to hell - let's put on a happy face."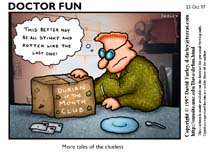 97/10/23
More tales of the clueless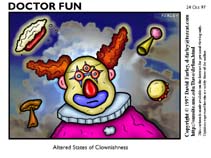 97/10/24
Altered States of Clownishness

---
Home,
Archive,
Previous Week,
Next Week,
Information About Doctor Fun, The MetaLab Home Page
---
These pages maintained, and contents copyrighted, by David Farley, d-farley@metalab.unc.edu