Doctor Fun Cartoons for October 27 through 31, 1997
Each cartoon is a 640x480 pixel, 24-bit color JPEG file, approximately 100K in size. Click on the thumbnail or text to download the cartoons.

Home, Archive, Previous Week, Next Week,
---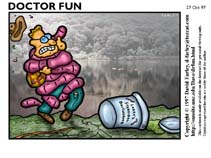 97/10/27
Larry's Steroidal Baitworms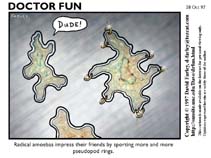 97/10/28
Radical amoebas impress their friends by wearing more and more pseudopod rings.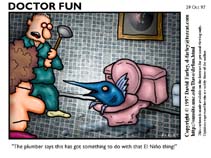 97/10/29
"The plumber says this has got something to do with that El Nino thing!"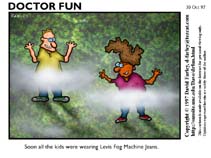 97/10/30
Soon all the kids were wearing Levis Fog Machine Jeans.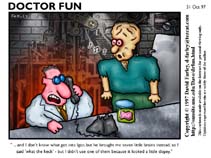 97/10/31
"...and I don't know what got into Igor, but he brought me seven little brains instead, so I said 'what the heck' - but I didn't use one of them because it looked a little dopey."

---
Home,
Archive,
Previous Week,
Next Week,
Information About Doctor Fun, The MetaLab Home Page
---
These pages maintained, and contents copyrighted, by David Farley, d-farley@metalab.unc.edu