Doctor Fun Cartoons for November 3 through 7, 1997
Each cartoon is a 640x480 pixel, 24-bit color JPEG file, approximately 100K in size. Click on the thumbnail or text to download the cartoons.

Home, Archive, Previous Week, Next Week,
---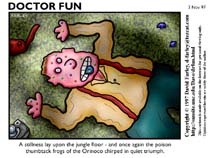 97/11/03
A stillness lay across the jungle floor - and once again the poison thumbtack frogs of the Orinoco chirped in quiet triumph.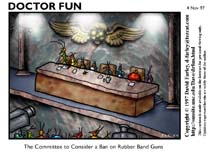 97/11/04
The Committee to Consider a Ban on Rubber Band Guns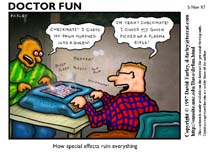 97/11/05
How special effects ruin everything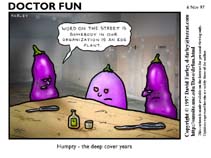 97/11/06
Humpty - the deep cover years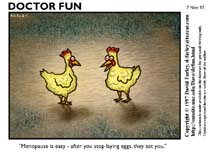 97/11/07
"Menopause is easy - after you stop laying eggs they eat you."

---
Home,
Archive,
Previous Week,
Next Week,
Information About Doctor Fun, The MetaLab Home Page
---
These pages maintained, and contents copyrighted, by David Farley, d-farley@metalab.unc.edu