Doctor Fun Cartoons for November 17 through 21, 1997
Each cartoon is a 640x480 pixel, 24-bit color JPEG file, approximately 100K in size. Click on the thumbnail or text to download the cartoons.

Home, Archive, Previous Week, Next Week,
---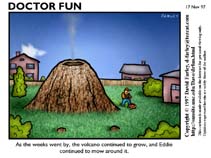 97/11/17
As the weeks went by, the volcano continued to grow, and Eddie continued to mow around it.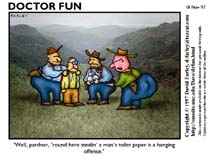 97/11/18
"Well pardner, 'round here stealin' a man's toilet paper is a hanging offense."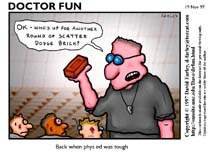 97/11/19
Back when phys ed was tough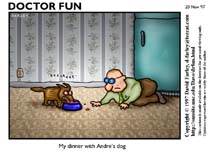 97/11/20
My dinner with Andre's dog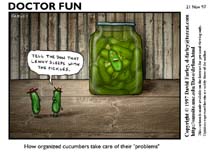 97/11/21
How organized cucumbers take care of their "problems"

---
Home,
Archive,
Previous Week,
Next Week,
Information About Doctor Fun, The MetaLab Home Page
---
These pages maintained, and contents copyrighted, by David Farley, d-farley@metalab.unc.edu