Doctor Fun Cartoons for November 24 through 28, 1997
Each cartoon is a 640x480 pixel, 24-bit color JPEG file, approximately 100K in size. Click on the thumbnail or text to download the cartoons.

Home, Archive, Previous Week, Next Week,
---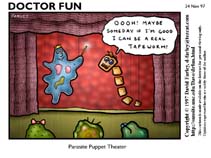 97/11/24
Parasite Puppet Theater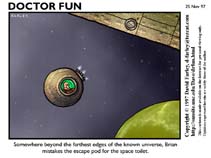 97/11/25
Somewhere beyond the farthest edges of the known universe, Brian mistakes the escape pod for the space toilet.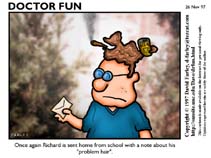 97/11/26
Once again Richard is sent home from school with a note about his "problem hair".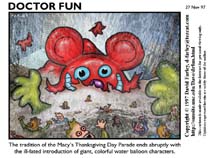 97/11/27
The tradition of the Macy's Thanksgiving Day Parade ends abruptly with the ill-fated introduction of giant, colorful water balloon characters.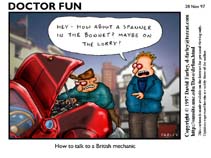 97/11/28
How to talk to a British mechanic

---
Home,
Archive,
Previous Week,
Next Week,
Information About Doctor Fun, The MetaLab Home Page
---
These pages maintained, and contents copyrighted, by David Farley, d-farley@metalab.unc.edu