Doctor Fun Cartoons for February 16 through 20, 1998
Each cartoon is a 640x480 pixel, 24-bit color JPEG file, approximately 100K in size. Click on the thumbnail or text to download the cartoons.

Home, Archive, Previous Week, Next Week,
---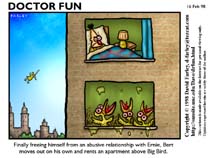 98/02/16
Finally freeing himself from an abusive relationship with Ernie, Bert moves out on his own and rents an apartment above Big Bird.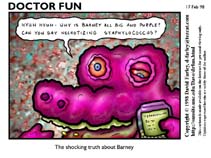 98/02/17
The shocking truth about Barney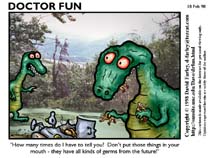 98/02/18
"How many times do I have to tell you? Don't put those things in your mouth - they have all kinds of germs from the future!"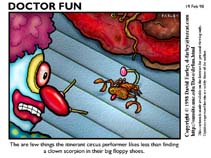 98/02/19
There are few things the itinerant circus performer likes less than finding a clown scorpion in his big floppy shoes.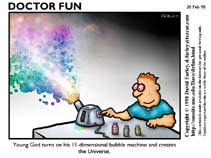 98/02/20
Young God turns on his 11-dimensional bubble machine and creates the Universe.

---
Home,
Archive,
Previous Week,
Next Week,
Information About Doctor Fun, The MetaLab Home Page
---
These pages maintained, and contents copyrighted, by David Farley, d-farley@metalab.unc.edu