Doctor Fun Cartoons for February 23 through 27, 1998
Each cartoon is a 640x480 pixel, 24-bit color JPEG file, approximately 100K in size. Click on the thumbnail or text to download the cartoons.

Home, Archive, Previous Week, Next Week,
---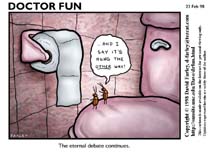 98/02/23
The eternal debate rages on.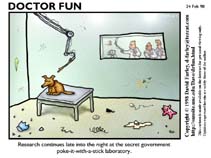 98/02/24
Research continues late into the night at the secret government poke-it-with-a-stick laboratory.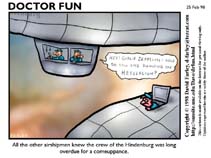 98/02/25
All the other airshipmen knew that the crew of the Hindenburg was long overdue for a comeuppance.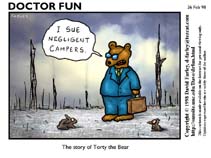 98/02/26
The story of Torty the Bear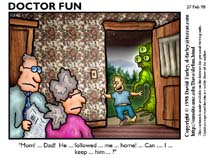 98/02/27
"Mom! ... Dad! He ... followed ... me ... home ... can ... I ... keep ... him?"

---
Home,
Archive,
Previous Week,
Next Week,
Information About Doctor Fun, The MetaLab Home Page
---
These pages maintained, and contents copyrighted, by David Farley, d-farley@metalab.unc.edu