Doctor Fun Cartoons for March 2 through 6, 1998
Each cartoon is a 640x480 pixel, 24-bit color JPEG file, approximately 100K in size. Click on the thumbnail or text to download the cartoons.

Home, Archive, Previous Week, Next Week,
---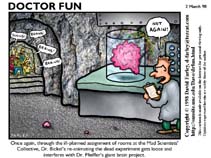 98/03/02
Once again, through the ill-planned assignment of rooms at the Mad Scientists' Collective, Dr. Bickel's re-animating the dead experiment gets loose and wreaks havoc on Dr. Wisenheimer's giant brain project.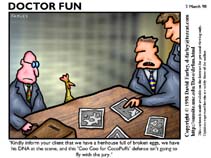 98/03/03
"Kindly inform your client that we have a henhouse full of broken eggs, we have his DNA at the scene, and this 'Coo Coo for CocoPuffs' defense isn't going to fly with the jury."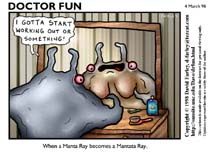 98/03/04
When a Manta Ray becomes a Mantata Ray.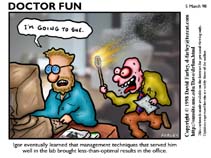 98/03/05
Igor eventually learned that management techniques that served him well in the lab brought less-than-optimal results in the office.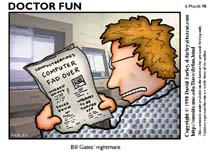 98/03/06
Bill Gates' nightmare

---
Home,
Archive,
Previous Week,
Next Week,
Information About Doctor Fun, The MetaLab Home Page
---
These pages maintained, and contents copyrighted, by David Farley, d-farley@metalab.unc.edu