Doctor Fun Cartoons for March 30 through April 3, 1998
Each cartoon is a 640x480 pixel, 24-bit color JPEG file, approximately 100K in size. Click on the thumbnail or text to download the cartoons.

Home, Archive, Previous Week, Next Week,
---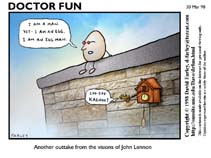 98/03/30
Another outtake from the visions of John Lennon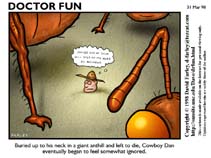 98/03/31
Buried up to his neck in a giant anthill and left to die, Cowboy Bob eventually began to feel somewhat ignored.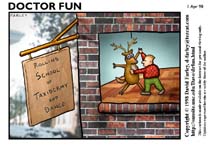 98/04/01
School of Taxidermy and Dance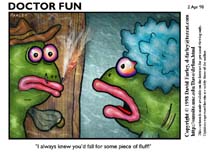 98/04/02
"I always knew you'd fall for some piece of fluff!"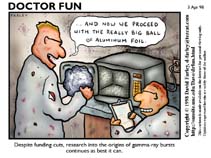 98/04/03
Despite funding cuts, research into the origin of gamma-ray bursts continues as best it can.


Home, Archive, Previous Week, Next Week,

Information About Doctor Fun, The MetaLab Home Page
---
These pages maintained, and contents copyrighted, by David Farley, d-farley@metalab.unc.edu