Doctor Fun Cartoons for April 6 through 10, 1998
Each cartoon is a 640x480 pixel, 24-bit color JPEG file, approximately 100K in size. Click on the thumbnail or text to download the cartoons.

Home, Archive, Previous Week, Next Week,
---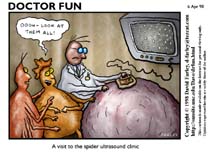 98/04/06
A visit to the spider ultrasound clinic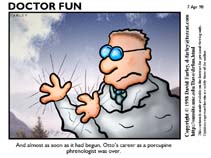 98/04/07
And almost as soon as it had begun, Otto's career as a porcupine phrenologist was over.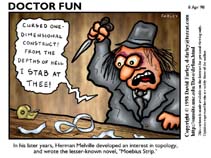 98/04/08
In his later years, Herman Melville developed an interest in topology, and wrote the lesser-known novel "Moebius Strip."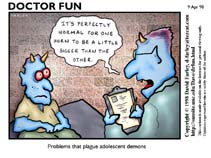 98/04/09
Problems that plague adolescent demons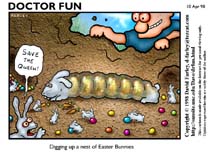 98/04/10
Digging up a nest of Easter Bunnies


Home, Archive, Previous Week, Next Week,

Information About Doctor Fun, The MetaLab Home Page
---
These pages maintained, and contents copyrighted, by David Farley, d-farley@metalab.unc.edu