Doctor Fun Cartoons for April 13 through 17, 1998
Each cartoon is a 640x480 pixel, 24-bit color JPEG file, approximately 100K in size. Click on the thumbnail or text to download the cartoons.

Home, Archive, Previous Week, Next Week,
---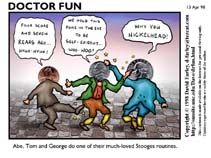 98/04/13
Abe, Tom and George do one of their much-loved Stooges routines.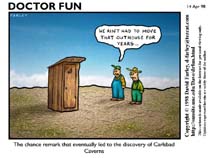 98/04/14
The chance remark that eventually led to the discovery of Carlsbad Caverns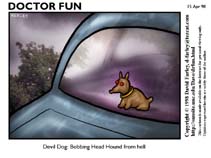 98/04/15
Devil Dog: Bobbing Head Hound from hell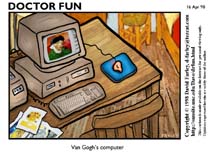 98/04/16
Van Gogh's computer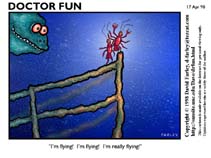 98/04/17
"I'm flying! I'm flying! I'm really flying!"


Home, Archive, Previous Week, Next Week,

Information About Doctor Fun, The MetaLab Home Page
---
These pages maintained, and contents copyrighted, by David Farley, d-farley@metalab.unc.edu