Doctor Fun Cartoons for June 29 through July 3, 1998
Each cartoon is a 640x480 pixel, 24-bit color JPEG file, approximately 100K in size. Click on the thumbnail or text to download the cartoons.

Home, Archive, Previous Week, Next Week,
---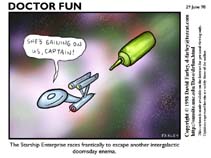 98/06/29
The Starship Enterprise races frantically to escape another intergalactic doomsday enema.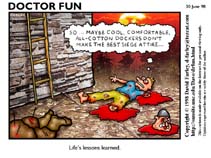 98/06/30
Life's lessons learned.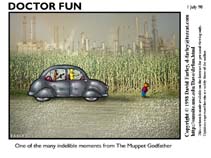 98/07/01
One of the many indelible moments from The Muppet Godfather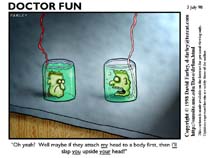 98/07/02
"Oh yeah? Well maybe if they attach my head to a body first, then I'll slap you upside your head!"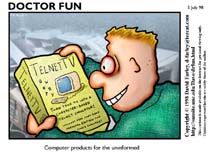 98/07/03
Computer products for the uninformed


Home, Archive, Previous Week, Next Week,

Information About Doctor Fun, The MetaLab Home Page
---
These pages maintained, and contents copyrighted, by David Farley, d-farley@metalab.unc.edu