Doctor Fun Cartoons for July 6 through 10, 1998
Each cartoon is a 640x480 pixel, 24-bit color JPEG file, approximately 100K in size. Click on the thumbnail or text to download the cartoons.

Home, Archive, Previous Week, Next Week,
---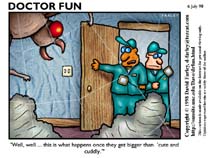 98/07/06
"Well, well ... this is what happens once they get bigger than 'cute and cuddly.'"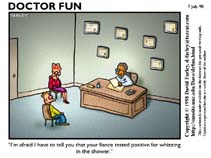 98/07/07
"I'm afraid I have to tell you that your fiancÚ tested positive for whizzing in the shower."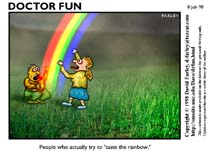 98/07/08
People who actually try to "taste the rainbow."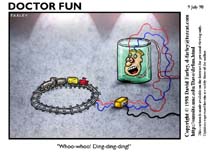 98/07/09
"Whoo-whoo! Ding-ding-ding!"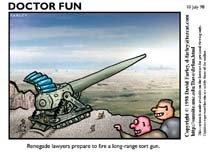 98/07/10
Renegade lawyers prepare to fire a long-range tort gun.


Home, Archive, Previous Week, Next Week,

Information About Doctor Fun, The MetaLab Home Page
---
These pages maintained, and contents copyrighted, by David Farley, d-farley@metalab.unc.edu