Doctor Fun Cartoons for July 27 through 31, 1998
Each cartoon is a 640x480 pixel, 24-bit color JPEG file, approximately 100K in size. Click on the thumbnail or text to download the cartoons.

Home, Archive, Previous Week, Next Week,
---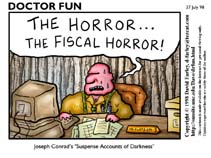 98/07/27
Joseph Conrad's "Suspense Accounts of Darkness"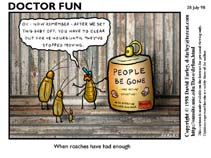 98/07/28
When roaches have had enough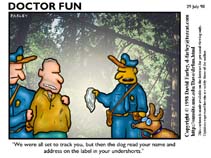 98/07/29
"We were all set to track you, but then the dog read your name and address in the label in your undershorts."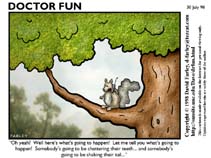 98/07/30
"Oh yeah? Well here's what's going to happen! Let me tell you what's going to happen! Somebody's going to be chattering their teeth... and somebody's going to be shaking their tail..."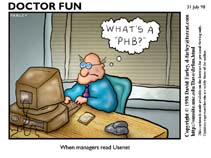 98/07/31
When managers read Usenet


Home, Archive, Previous Week, Next Week,

Information About Doctor Fun, The MetaLab Home Page
---
These pages maintained, and contents copyrighted, by David Farley, d-farley@metalab.unc.edu