Doctor Fun Cartoons for August 3 through 7, 1998
Each cartoon is a 640x480 pixel, 24-bit color JPEG file, approximately 100K in size. Click on the thumbnail or text to download the cartoons.

Home, Archive, Previous Week, Next Week,
---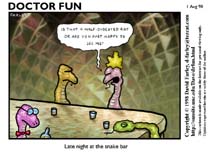 98/08/03
Late night at the snake bar


98/08/04
"You fellas are going to have to find someplace else to divide up the world other than the AV closet."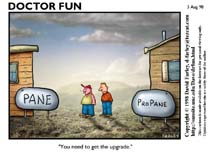 98/08/05
"You need to get the upgrade."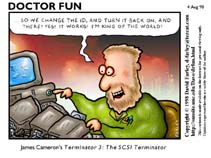 98/08/06
James Cameron's Terminator 3: The SCSI Terminator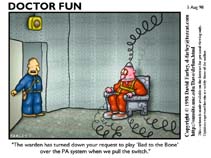 98/08/07
"The warden has turned down your request to play 'Bad to the Bone' over the PA system when we pull the switch."


Home, Archive, Previous Week, Next Week,

Information About Doctor Fun, The MetaLab Home Page
---
These pages maintained, and contents copyrighted, by David Farley, d-farley@metalab.unc.edu