Doctor Fun Cartoons for August 10 through 14, 1998
Each cartoon is a 640x480 pixel, 24-bit color JPEG file, approximately 100K in size. Click on the thumbnail or text to download the cartoons.

Home, Archive, Previous Week, Next Week,
---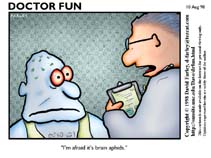 98/08/10
"I'm afraid it's brain aphids."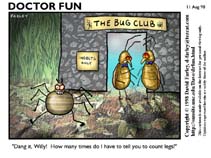 98/08/11
"Dang it, Willy! How many times do I have to tell you to count legs?"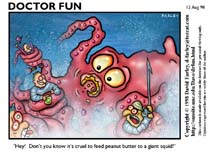 98/08/12
"Hey! Don't you know it's cruel to feed peanut butter to a giant squid?"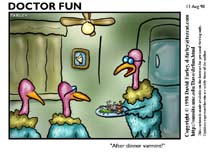 98/08/13
"After dinner varmint?"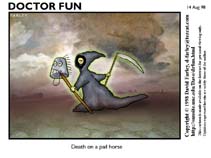 98/08/14
Death on a pail horse


Home, Archive, Previous Week, Next Week,

Information About Doctor Fun, The MetaLab Home Page
---
These pages maintained, and contents copyrighted, by David Farley, d-farley@metalab.unc.edu