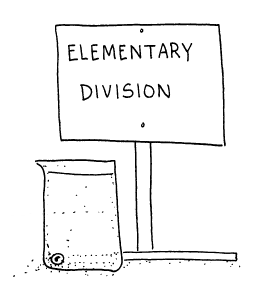 Science Fair, Elementary Division, Page Three
Each cartoon is a 640x480 pixel, greyscale GIF.
---
Next Page, Previous Page, Doctor Fun's Double Whammy, Doctor Fun Page
---

"Electric Venus Flyzapper"
---

"A working model of the Alaskan Pipeline"
---

"Turpentine + milk = the Wonder Drink"
---

"A sure cure for warts?"
---

"What would we look like on Jupiter?"
---

"Fly colony"
---

"Dropping small electrical appliances in the bathtub"
---

"What do different bugs look like after being stomped on?"
---

"Mold garden"
---

"Life cycle of a jellybean"
---

"The living mulch pile"
---

"Defense reaction in hornets"
---

"The effect of sunlight on vampires"
---

"Do goldfish need glasses?"
---

"Why do we go to the bathroom?"
---

"Do vegetables feel pain?"
---

"Dead proof of extra-terrestrial intelligence"
---

"The effect of different colored lights on rocks"
---

"Why is flypaper sticky?"
---

"Will snowballs with rocks inside them really put people's eyes out?"
---

"Volcano and Solar System Division"
---
Top of Page, Next Page, Previous Page, Doctor Fun's Double Whammy, Doctor Fun Page
---
These pages maintained, and contents copyrighted, by David Farley, d-farley@metalab.unc.edu