Doctor Fun, December 13 through December 17, 1993
All cartoons are in 24-bit JPEG format.
"I decide when the cows come home."
---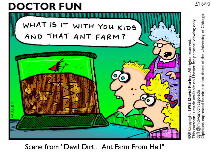 12/16/93
Scene from "Devil Dirt: Ant Farm From Hell"
---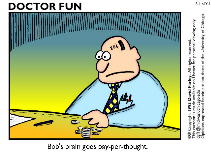 12/15/93
Bob's brain goes pay-per-thought.
---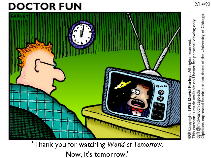 12/14/93
"Thank you for watching 'World of Tomorrow.' Now, it's tomorrow."
---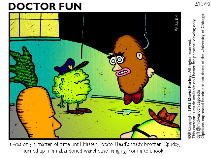 12/13/93
It was only a matter of time until Mister Potato Head's shady brother, Spudsy, turned up in an abandoned warehouse hanging from a tofuhook.
---
Go to the previous week.
Go back to the archive page.
---
David Farley (d-farley@metalab.unc.edu)