Doctor Fun, December 27 through December 31, 1993
All cartoons are in 24-bit JPEG format.
Surrounded on all sides by rabid couch potatoes, Larry mans the weiner gun.
---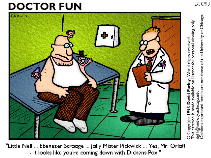 12/30/93
"Little Nell ... Ebenezer Scrooge ... Jolly Mister Pickwick ... Yes, Mr. Orloff - it looks like you're coming down with Dickens Pox."
---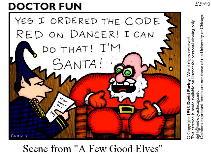 12/29/93
Scene from "A Few Good Elves"
---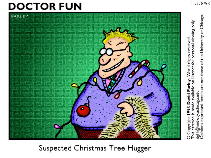 12/28/93
Suspected Christmas Tree Hugger
---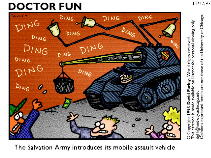 12/27/93
The Salvation Army introduces its mobile assault vehicle
---
Go to the previous week.
Go back to the archive page.
---
David Farley (d-farley@metalab.unc.edu)