Doctor Fun, January 3 through January 7
All cartoons are in 24-bit JPEG format.
Close En-Cow-ters of the Third Kind: The mother ship descends.
---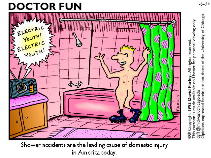 01/06/94
Shower accidents are the leading cause of domestic injury in America today.
---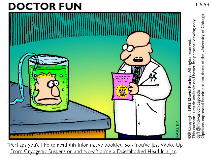 01/05/94
"Perhaps you'd like to read this informative booklet, 'So - You've Just Woke Up From Cryogenic Suspension and Now You're a Disembodied Head In a Jar.'"
---
01/04/94
Buttons that are rarely used on laughtrack machines.
---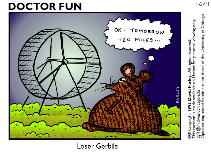 01/03/94
Loser Gerbils
---
Go to the previous week.
Go back to the archive page.
---
David Farley (d-farley@metalab.unc.edu)