Doctor Fun, January 10 through January 14
All cartoons are in 24-bit JPEG format.
More marketing scams
---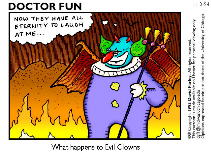 01/13/94
What happens to Evil Clowns
---
01/12/94
"You call this food? I wouldn't give this to the dog!"
---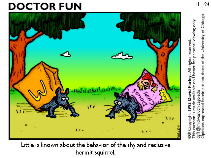 01/11/94
Little is known about the behavior of the shy and reclusive hermit squirrel.
---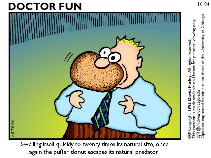 01/10/94
Swelling itself quickly to twenty times its natural size, once again the puffer donut escapes its natural predator.
---
Go to the previous week.
Go back to the archive page.
---
David Farley (d-farley@metalab.unc.edu)