Doctor Fun Cartoons for March 5 through 9, 2001
Each cartoon is a 640x480 pixel, 24-bit color JPEG file, approximately 100K in size. Click on the thumbnail or text to download the cartoons.

Home, Archive, Previous Week, Next Week,
---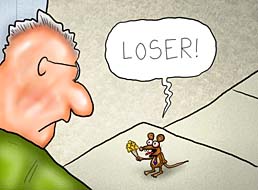 2001/03/05
A visit from the Publisher's Jeering Mouse

---

2001/03/06
At last a digital music licensing scheme the recording industry can live with
---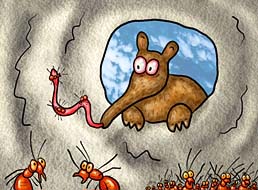 2001/03/07
"You're the one who wanted a skylight!"
---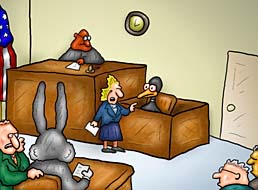 2001/03/08
"... And then a series of alternating signs were revealed, reading 'Duck Season' and 'Rabbit Season'. Now, Daffy, when the sign was revealed that read 'Elmer Season', tell the court who fired the fatal shotgun blast that killed Mr. Fudd?"
---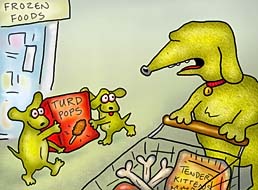 2001/03/09
"No. You can make those yourselves at home."
---
Previous Week,
Next Week,
Information About Doctor Fun, The ibiblio Home Page
---
These pages maintained, and contents copyrighted, by David Farley, d-farley@ibiblio.org