Oshkosh 1998: Day One
Sunday, July 26
Our original plan was to leave on Monday. However, it appeared that there was going to be some somewhat nasty weather moving on on Monday, so we decided to leave earlier, on Sunday. It turns out, as it often does, that the foretold nasty weather never materialized.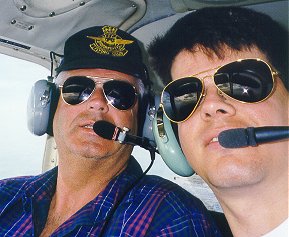 In any case, at 10:30 am, we were off in our airplane from the little airport at Brampton. We flew up the east side of Lake Huron, and over Manitoulin Island. It would have been far shorter to cut straight across the lake, however our airplane has only one engine...and neither of us wanted to go swimming if we should have any engine trouble.
Our first stop was at Drummond Island, Michigan, just barely inside the US border. The pre-arranged customs agent was there to collect our money and forms, and within fifteen minutes we were back in the air.
We flew across the top of Lake Michigan, and skirted the western shore of Green Bay. Our next stop was at Menominee, where we stopped to take on some fuel. The FBO at Menominee was wonderful - so nice to see a nice comfortable and clean place like that at a small airport.
We took off once again, destined for OSH, Wittman Field, where the annual EAA convention is held. Having read the approach procedures and pretty well committed them to memory, we were ready for a steady stream of traffic and harried controllers...but to our surprise, once we got near enough to pick up OSH tower on the radio, we realized that the special approach procedures were not yet in use, probably because the amount of traffic did not yet warrant it. We greeted the tower and were given our landing clearance. Flying inside the "blue tower", we entered a right downwind for runway 27, landed, and followed ground crew instructions to our campsite - home for the next nine days.
Many other airplanes had already arrived and were parked in the camping area. All of the airplanes were set up in rows of twenty, and we were put into row 16...that makes around 320 aircraft who had arrived before us. If I remember correctly, by the middle of the convention there were around 90 rows each with twenty aircraft camping...and that doesn't include any of the show aircraft, or the thousands of other aircraft that parked and camped at neighboring airfields.
We set up our tent, unpacked our gear, then took a quick walk around the convention area. Some show airplanes

had already arrived - we saw several P-51 Mustangs, a couple Corsairs, even an old Grumman Tracker. My father had worked on Trackers when he was stationed on the Bonaventure, Canada's only aircraft carrier. Several people were gathered around the airplane, which had its wings folded up. They started asking questions to one another, and my father started telling them the answers...after this had gone on for a while, they just started asking my father all their questions directly, as he was obviously an authority on the airplane.
After wandering around the thinly populated convention grounds, we walked back to our tent. I fired up our little Coleman stove, and cooked us a dinner of fried potatoes and flavored rice. The cooked food stuck stubbornly to the camping pots & pans, so I decided that as we were men camping in the great outdoors, we'd forego washing them and just live with the filth.
The sun set, and we turned in for the night.
My first day impressions: Wow, it's big! Wow, it's HOT! I can hardly wait for opening day...
This page copyright © 1998