Navigate this Site:


Home



Racing



Nissan Destruction



Aviation




FAA Database




Oshkosh Home





July 26





July 27





July 28





July 29





July 30





July 31






August 1





August 2





August 3





Final Thoughts





Email




Fort Simpson Trip



MP3 Music



Nero's Cancer



LiveJournal Images



Treo 650 Software



Dr. Fun Archive



Freethinkers
Oshkosh 1998: Day 6
Friday, July 31

Another beautiful day in Oshkosh begins. As the aviation camping was completely packed full (about 100 rows of twenty aircraft each), the showers were also completely packed. After waiting in line for the showers, it was finally my turn, and amongst the throng of naked, overweight men (thinking to myself; "what DO women see in us?"), I heard someone say, "At least here in Oshkosh you don't have to worry about dropping the soap in the shower. Everyone's looking up at airplanes!"
We decided that we were sick of oatmeal, and chancing fate and clogged arteries once again, decided that maybe Hardees wasn't all that bad after all. After breakfast (or a dim facsimile of such), we decided that we had been wrong - it was just as bad as we had remembered it to be.
People had started arriving and leaving very early in the morning - 6:00 am - and by the time we had finished breakfast, there was once again a steady stream of airplanes taking off and landing. My father wanted to have another look at the warbirds, and I went off to check out the two hangars we had missed previously. I never made it that far, instead getting sidetracked at the NASA building and the Canadian/American building.
The NASA building had some interesting displays:
In cooperation with Williams, the development of a small fanjet engine for general aviation. Weighing only 80 lbs, this tiny engine generates 700 lbs of thrust on only 0.65 lbs of Jet-A fuel per pound thrust per hour. When this is finished and available, they expect it to cost around $30,000. This engine will revolutionize general aviation.
A small (up to 300 hp) piston engine for light aircraft. This engine runs on Jet-A fuel, is designed using current technology (as opposed to the 1940's technology currently used in aircraft engines), and is expected to sell for less than half of what equivalent general aviation engines currently cost. This will certainly shake up Lycoming and Continental.
Inside the Canadian/American building, they had a very interesting display by the U.S. Customs Service, on the various methods people had used to smuggle drugs and contraband into the United States. I found a lot of this fascinating, both in some of the more clever ways people had concealed things, as well as some of the not-so-clever ways (hiding drugs inside sugar cane and carrying it into the country - the agent said that he would have gotten away with it, except that it is illegal to bring sugar cane into the country). They had two dogs there, one trained to sniff out drugs, the other (a Beagle) trained to sniff out food, meat and plants. I met the Beagle and his trainer, and just as I was petting him, he shot to attention, pawed the plastic bag carried by a woman who was passing by, and then sat down. The dog's trainer praised the dog, and asked the woman if she had food in her bag. The woman said she did, a ham sandwich. Impressive!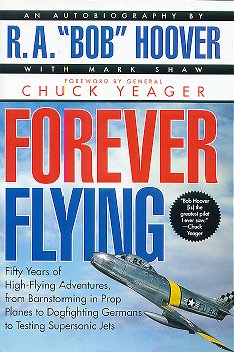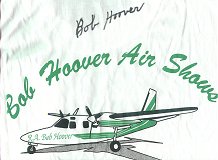 I met up with my father at the EAA Pavilion to hear a speech given by Chuck Yeager and Bud Anderson, but when we arrived, we found out that it had been cancelled. Instead, we went and toured the two remaining hangars that we had not yet seen. Inside one of them, I found a booth with none other than Bob Hoover, my favorite airshow pilot, autographing his book and T-shirts. I bought one of his books and a T-shirt, and had him autograph both of them for me. I spoke briefly with Bob, and he was as nice and congenial as I had expected. Bob Hoover is a national treasure, and to sit in this booth all day signing books for people, yet have a kind word and short conversation with each one of them really shows his true professionalism.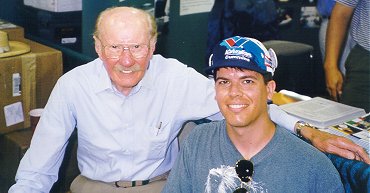 I found the USAviator booth - I've always liked USAviator magazine, and have been a subscriber for many years. As usual, the USAviator folks had staffed their booth with the best looking girls at the show. I wonder why the other vendors (excepting Aero One) haven't caught on to this trick? It's been used at computer shows for years, where they fill the booths with pretty girls who pay attention to the computer geeks who frequent them - usually the only attention they ever get from pretty girls. And you wonder why computer shows charge so much to get in!
Leaving the hangars, we were feeling the noontime heat, and happened to walk past the Bose trailer. Bose had released their brand new ANR headset line at the show, specifically on Wednesday, and had brought in a theater to show it off. We looked briefly at the headsets, and one of the salesmen tried to get us into the theater to view the presentation on the headsets. We resisted until he told us it was air conditioned inside. That's all we needed to hear. The presentation was fine, even though the video showed all kinds of "real pilots" claiming how they loved their new Bose headsets - interesting seeing as it had only been available for sale for two days.
Time for lunch - we waited in line for almost twenty minutes in the heat, for the privilege of paying outrageous prices for cruddy food. $3.00 for a measly, thin slice of pizza, and $5.00 for a chicken sandwich. EAA needs to do something about the food vendors, both in terms of quality and price.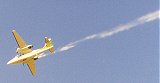 My father and I went back to the campsite for a while to watch arriving and departing aircraft, until it was time to go see the airshow. Today's airshow featured none other than Bob Hoover - my favorite! Bob did his normal, flawless performance, throwing his Twin Shrike Commander around the sky with perfect precision, sometimes with both engines running, sometimes with one engine running, sometimes with no engines running at all. His final maneuver is an energy management demonstration.

Bob comes in fast, shuts down both engines, then does a slow, eight-point hesitation roll. He follows this with a 180 degree turn, sets up for landing, comes in, lands on one wheel, pulls up and does a barrel roll, lands on the other wheel, then puts all three wheels down on the ground. He uses his remaining inertia to taxi in off the runway, up the taxiway, and rolls to a stop exactly in front of the crowd. He never fails to nail this performance precisely - simply amazing.
After the airshow, we went to a restaurant near the camping area called "Friar Tucks." We had to wait a while to get in (seems a lot of other people camping there had the same idea), but the food was good, cheap, and the service was excellent. What a refreshing change!
Our EAA bus back to our airplane was filled with rowdy pilots who had had a few drinks. One of them, realizing that he hadn't been paying attention to our progress and possibly having missed his stop, yelled out, "Where are we!?!" Someone yelled in response, "Oshkosh!!"
"Never mind," he said, getting off the bus. "I'm a pilot, I know where I am."
This page copyright © 1998